‍
‍
‍
‍
Bow Anatomy
TERMINOLOGY
‍
PUT INTO NEW WORDS:
‍
All references of orientation are standardized as follows: The front of the bow is where the head is located, the back is where the frog is located. A bow held upright will have the stick at the top and the frog and hair at the bottom. The left and right sides of the bow are also referred to as thumb and finger sides respectively.
‍
‍
‍
‍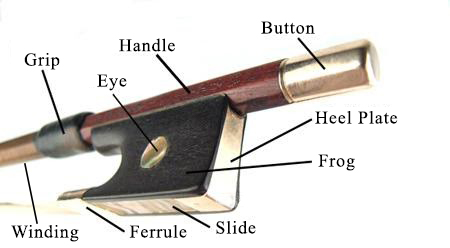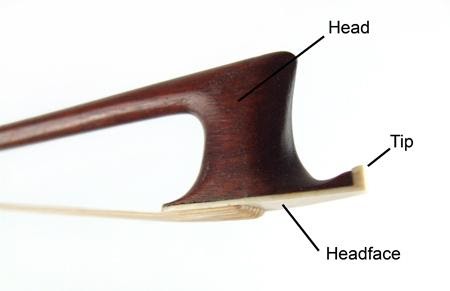 ‍
FROG
Button
Knob at the back of the stick attached to the screw to enable tightening of the bow hair. Can be constructed of silver, gold or nickel rings with ebony or of a full metal cap, most commonly silver.

Eye
A round decorative inset found at the sides of the frog, often mother of pearl.  Sometimes the style is plain pearl, sometimes parisian with a metal ring around the pearl.

‍
Facets
Decorative insets found on some buttons, usually of mother of pearl.

Frog
The block of wood, ivory, ebony or tortoise shell designed to hold the bow hair to the stick.

‍
Grip
Made of leather, it protects the wood from wear and tear.
‍
Handle
The part of the stick, at the back of the bow, the player holds when playing.  

Heel

‍
Mounting
A general term used for the metal parts of the bow.

‍
Screw
Fits into the eyelet of the frog and tightens the hair when turned.  Sometimes the screw can strip the eyelet or become unattached from the button so that it will not turn correctly.
Slide
Decorative piece of pearl, or abalone, which closes the trench of the frog and can be removed for rehairing.
Winding
A band of wound silver wire, whalebone, or tinsel that covers the bow stick in front of the frog, designed to protect the stick from wear and assist the player's grip.

HEAD
Chamfer
The beveled edge connecting the back sides of the head and transitions to the stick.

Tip
tip tip
Headface
Tip
‍